ABOUT US
The Folk Ensemble Tena was founded on 21 May 1985. It relies on the rich folklore tradition of Slavonia and the town of Đakovo itself.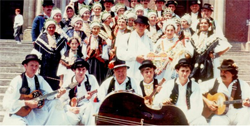 Cultural, artistic and social program of the ensemble is focused on the basic principles of musical and stage amateurism, as well as organized educational gathering and practicing of young people from Đakovo and the surrounding areas. Furthermore, a foundation of the ensemble's work is the preservation of not only the Slavonian folklore tradition, but the traditions of other Croatian regions, as well as teaching the young to recognize and accept the traditional values in a new way of life.

All dance choreographies are based on customs, songs and dances, as well as traditional instruments coming from particular regions. Good dance technique, expressive singing and virtuoso-playing characterize this ensemble, making their performances pleasurable to watch. Their two-hour program consists of the folklore from all four folklore regions of Croatia (Pannonian, Alpine, Dinaric and Adriatic). Original and colourful costumes make the program even more attractive.

A very successful dance and art director dr. Enrih Merdic and music instructor Tomislav Klasan give artistic and educational advice and ideas to about 70 members, singers, dancers and musicians, gathered in a representative ensemble Slavonske kraljice (Slavonian queens), with about 300 active members in other groups (tamburitza band, children's folklore group, male vocal group). Special attention is given to traditional solo instruments, such as bagpipes, dvojnice, samica, sopele and lijerica. We have so far performed on many stages in Croatia, and participated in many festivals throughout Europe and World, including Belgium, Bulgaria, France, Germany, Hungary, Italy, Netherlands, Spain, Portugal, Greece, Mexico, Egypt, China, Indonesia, Czech Republic, Slovakia, USA...

We are a member of the CIOFF.



Conseil International des Organisations de Festivals de Folklore et d'Arts Traditionnels